This is a generic set of instruction on how to obtain a product purchase code for an item you bought.
This set was specifically made generic so that any Envato Author may use these images as they see fit. No link-back, No credit, No Love required; however, please do not hotlink these images!! Save & Upload them to your own server!!!
The 1200px and 800px are too large to nicely display here, but this is the 400px one: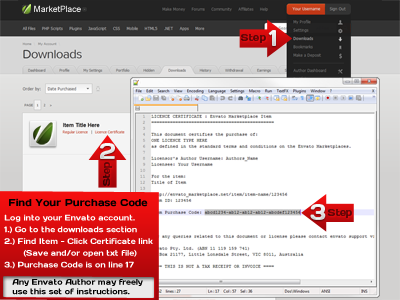 To download the images, right click the link(s) below and select Save or Save As. Save them to your local PC then upload them to your server. Images have been ran through SmushIt.
400x300
|
800x600
|
1200x900
Bradley